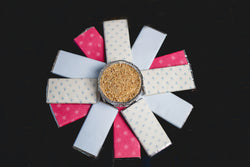 Panjeribakery
Panjeri Dark Chocolate Bars (12 Bars)
Description:
The Panjeri Bakery has created the world's first Panjeri Chocolate Bar! Panjeri Mixture surrounded by 60% Cacao Chocolate. 
Great as party favors for any occassion!
These are gluten free!
Ingredients:
Almonds, Cashews, Pistachios, Gond (Edible Gum), Phool Makana (Puffed Lotus Seeds), Dates, Ghee (Clarified Butter), Cardamom,  Cane sugar, unsweetened chocolate, milkfat, cocoa butter, soy lecithin, vanilla extract.
Specifications:
Size: 12 Bars
Nutrition Facts
Total Fat : 6g
Total Sugars: 6g Include 6g Added Sugars
Protein: 1g